the "real" Paph. superbiens
Looking for recent photos of Paph. superbiens on the Internet and also in specialist forums, inaccurate pictures of this plant are often shown. For a long time it was also difficult to differentiate this plants to the type of Paph. curtisii.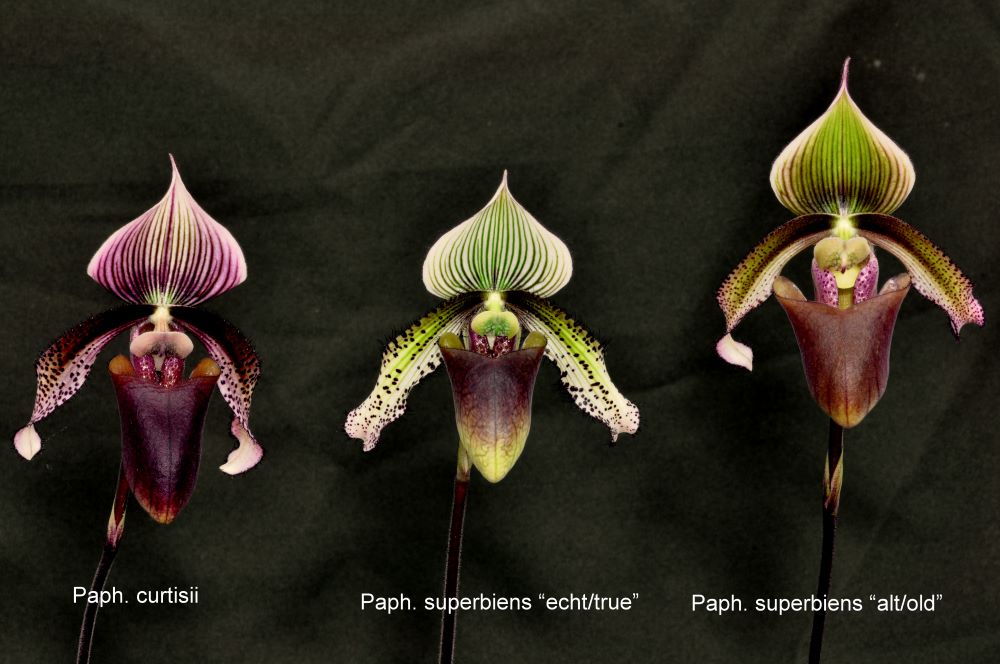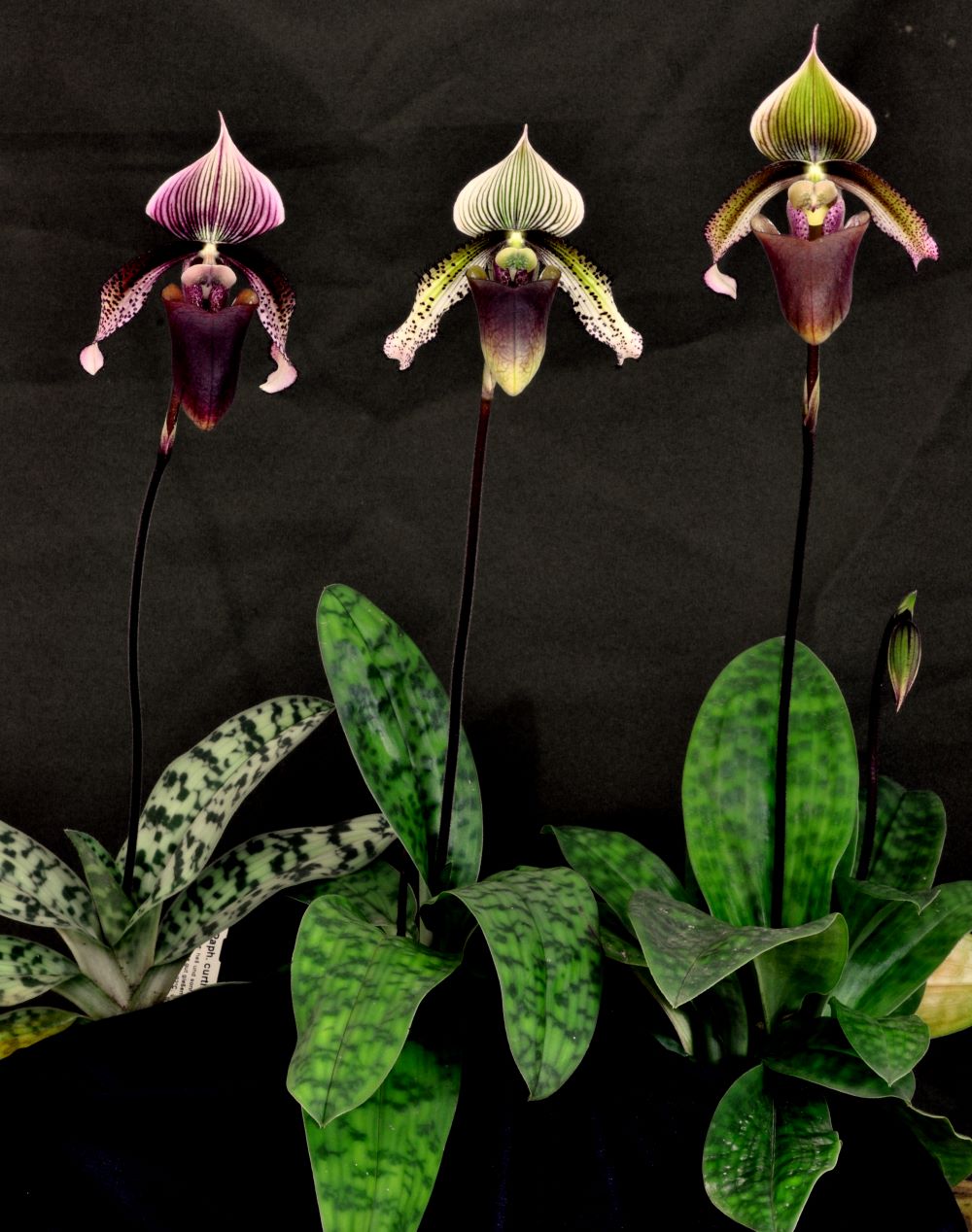 A historical review:
Paph. superbiens was mentioned for the first time in 1855, imported to England as such a plant by ROLLINSON, and later by REICHENBACH in the journal Bonplandia as Paph. superbiens has been described. A second plant was discovered in 1857 by the VEITCH company in an import.
In 1882 Charles CURTIS, who was a collector of VEITCH, found a larger population of these plants in Sumatra and brought them to Europe.
A resemblance to the already known Paph. superbiens was noticed, but these plants had smaller flowers with slightly shorter petals. REICHENBACH took this as an opportunity to name the newly found and describe it as Paph. curtisii.
When I became interested in Paphiopedilum in the early 1980s, there were always Paph. curtisii available in nurseries.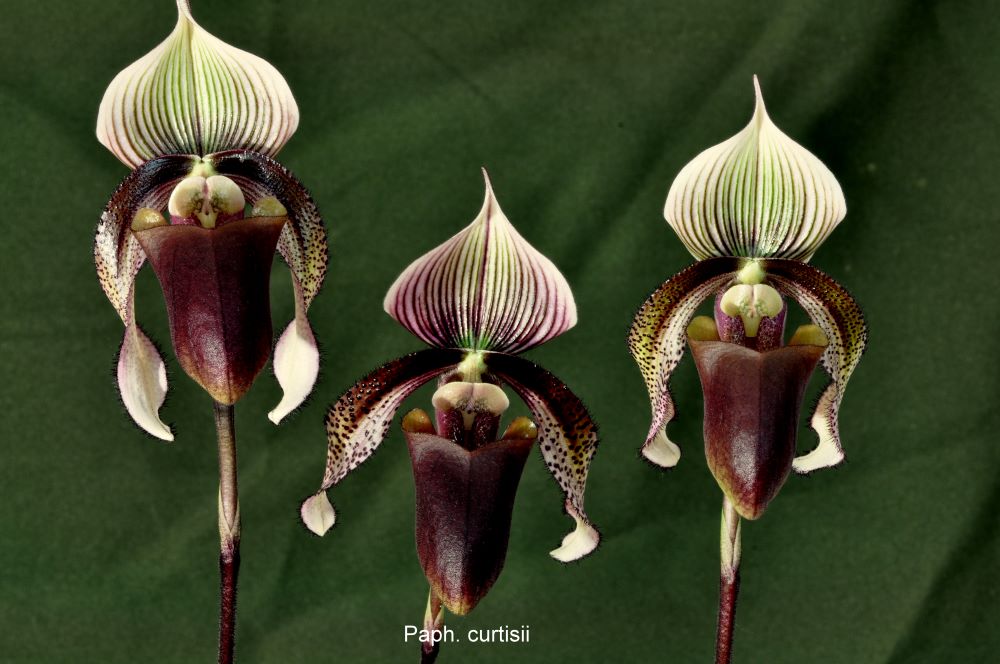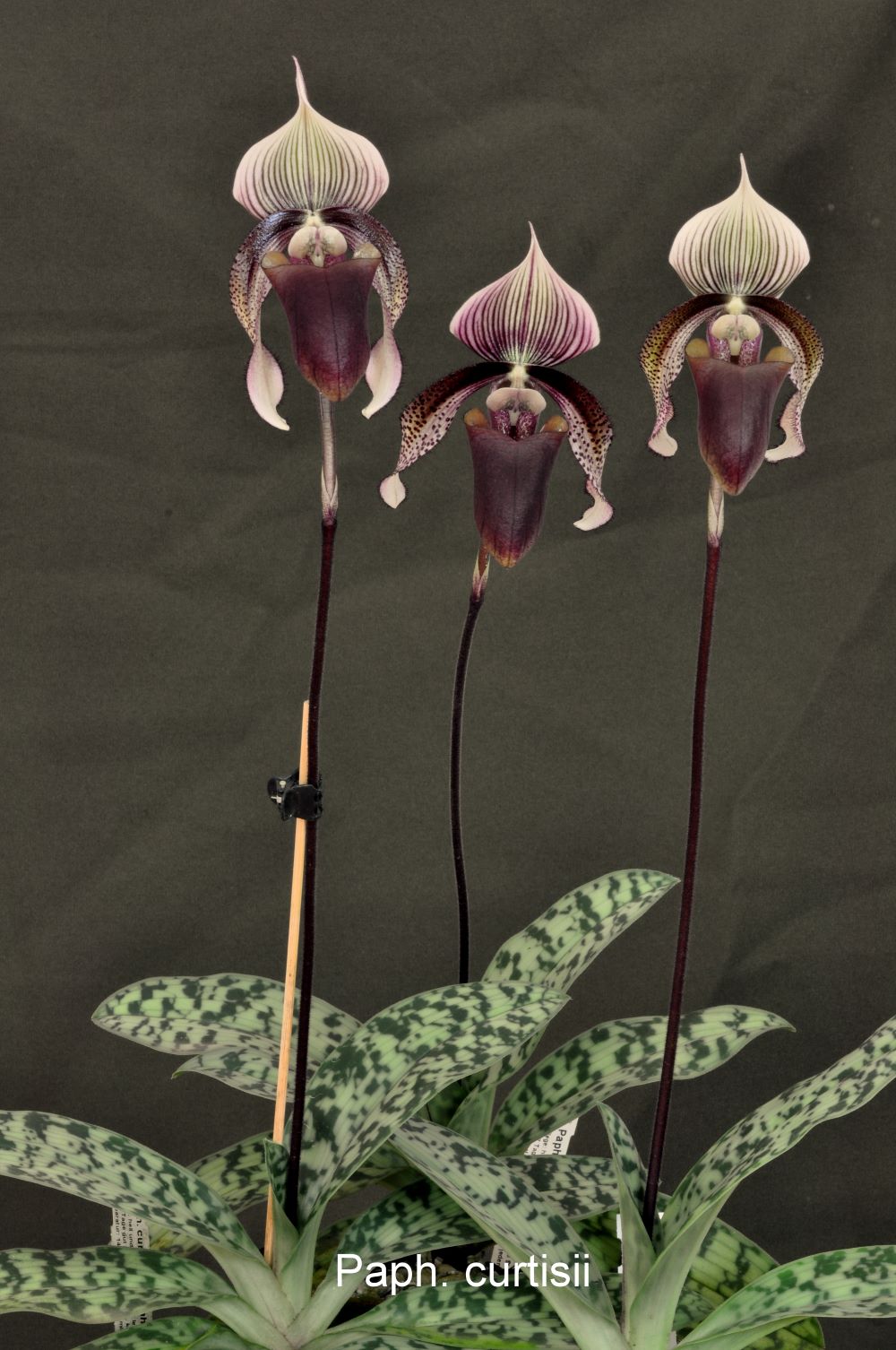 Paph. superbiens I first saw at the POPOW company in the late 1980s. While planting Paph. curtisii had variable leaf color, the leaf color of the two plants of Paph. superbiens almost the same. These two plants were pollinated and seeded by Rene KLINGE (NL) and he raised the young plants. All of the offspring had the same leaf color as the parent plants and there are still plants of this type for sale today.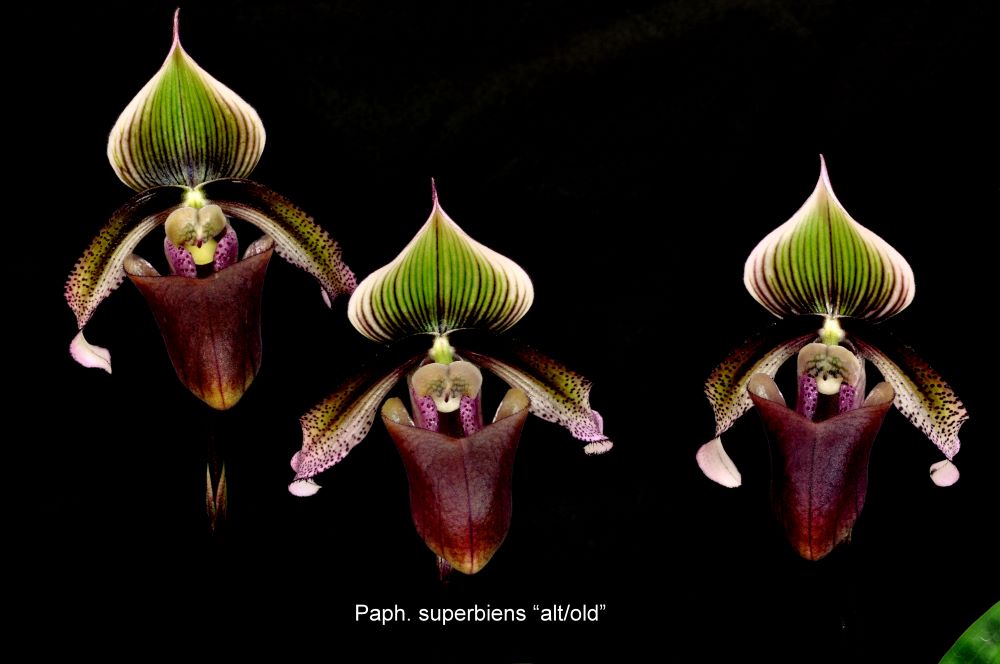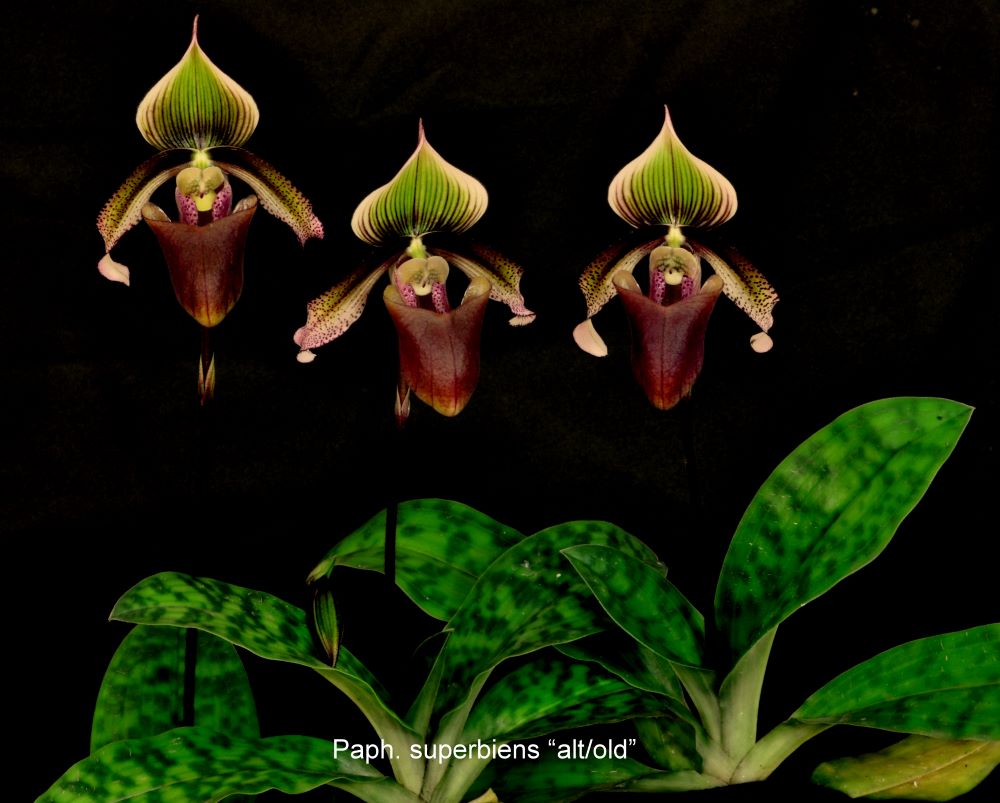 Comparing the flowers of these Paph. superbiens and those of Paph. curtisii, it is indeed difficult to distinguish between them. A more reliable identification could be carried out via the leaf coloring.
In the taxonomy, therefore, both species were sometimes allowed, then again Paph. curtisii only as a variety of Paph. superbiens recognized or even only as a synonym for Paph. superbiens classified.
During field research in Sumatra, Dr. FOWLIE and Lance A. BIRK the Paph. curtisii is found at elevations between 900 and 1400 meters in the mountains around Lake Toba, while the Paph. superbiens was found further south at an altitude of 600 meters at Gunung Keringii near the town of Tapan.
BRAEM therefore conjectured that the Paph. curtisii might be a highland form of the Paph. superbiens
In the autumn of 2011, imported plants from Sumatra will then be possible Paph. x frankeanum (natural hybrid between P. curtisii x P. tonsum) was imported to Germany. The surprise was great when the first plants from this import flowered in 2012. It quickly became clear that it couldn't be this natural hybrid - but what was blooming there?
Holger PERNER was the first to discover that these plants are the original Paph. superbiens that was described by REICHENBACH in 1855.
He compared the blossoms to a colored watercolor from John DAYS Scrap Book No. 19 - the Real Paph. superbiens had been rediscovered and was described by H. PERNER in the German orchid journal "Orchideenjournal Heft 4 2012".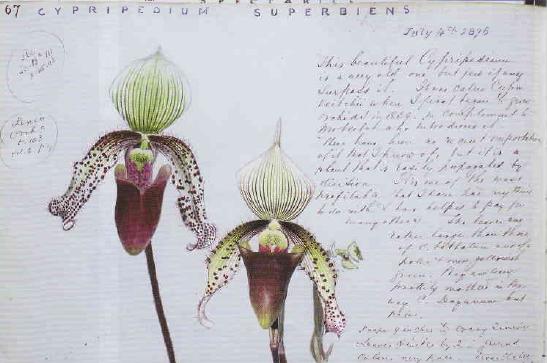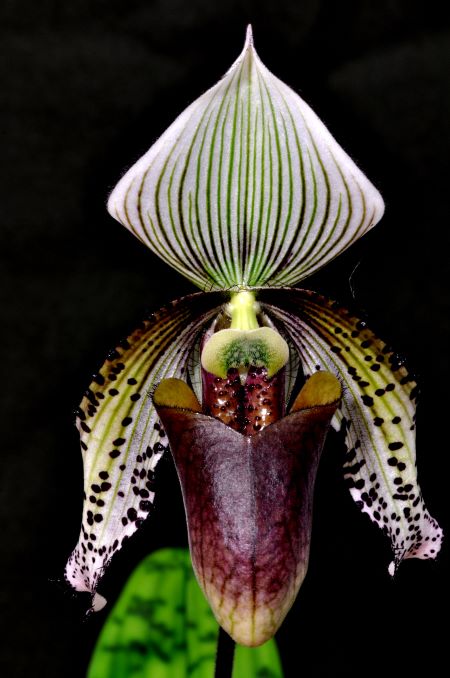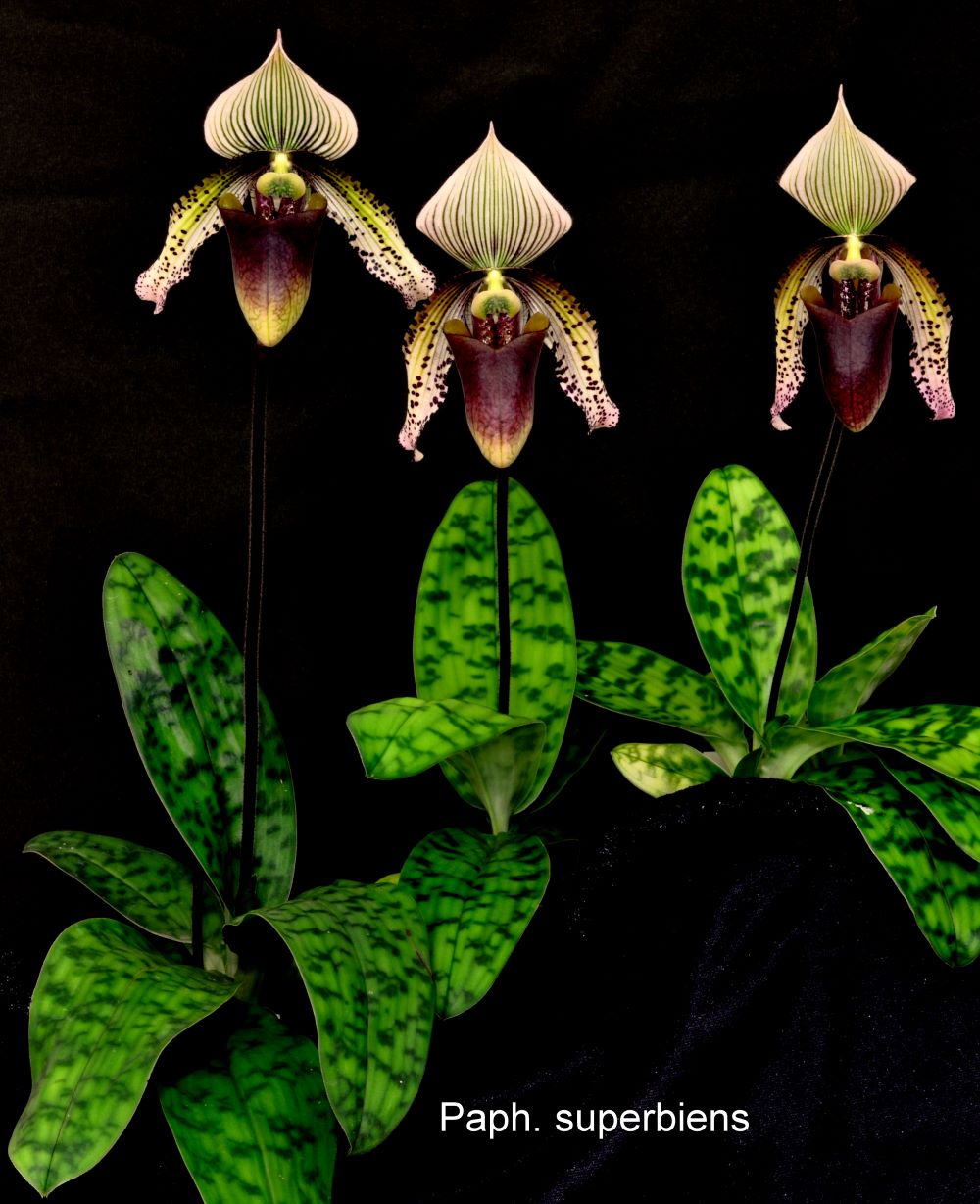 An orchid lover from the island of Sumatra has the "real" Paph. superbiens found at the altitude of 2000-2500 meters in the Bengkulu region - Paph. curtisii has been found nearby at 1500-2000 meters altitude also in Bengkulu region.
Due to the rediscovery of the Paph. superbiens have Dr. Holger PERNER & Olaf GRUSS in the taxonomic report of the German orchid magazine "Die Orchidee Heft 6 2017" the Paph. curtisii now back as a true species alongside the newly found Paph. superbiens approved.
The question remained unanswered as to what name we should use for the plants that we had known for decades as Paph. superbiens supposed to have cultivated? Is that Paph. curtisii var. superbiens now?
It is absolutely necessary to further propagate these "real" Paph.superbiens from seed.
An orchid friend therefore crossed two of these plants and sowed them. Bottled goods from these plants were sold to various orchid growers.
When the first plants from these offspring flowered, the surprise was great, as well as the expected Paph. superbiens also flowered plants that are more of a cross between Paph. superbiens and Paph. callosum.
Was pollen from a previous crossing of Paph. callosum on the "pollination stick", or were the young plants swapped in the nurseries?
Anyone currently buying plants from it in Europe should be able to live with such surprises, or only buy flowering plants from it.
In the meantime there are plants from Paph. superbiens again have been crossed with each other. We must await the result of this pollination.
More pictures from Paph. superbiens and Paph. curtisii can also be found under the heading "Species" here on this homepage.